Employment Career Feature
Considerations While Looking for Entry Level Jobs
A Bachelor's degree can take you far, but if you don't know how to determine a career path for yourself and find a suitable job, your prospects will be limited. Success in getting the job you can love and thrive in, relies on how you've developed your staying power amidst difficulties. Contrary to what you believe,
good entry level jobs
aren't hard to find; but staying employed is the real challenge. However, the first facility you need to sharpen is your job-hunting skills. Here's how you can tap into the valuable resources made available by the Internet.
Essentials of Job-Hunting
The Internet has created numerous opportunities for job-seekers and employers, simplifying the application and recruitment process. If you're able to narrow down the jobs that you think you're qualified for, and then prepare all that you'll need to farm out your application, your chances of getting a job from any one of your final choices would increase.
Narrowing Down Your Choices and Preparing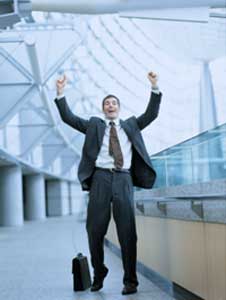 Thousands of job openings can overwhelm a novice job-searcher. Those who have graduated from interdisciplinary programs might have even tougher decisions to make, although the net of possibilities is wider. Narrow down your job choices to available openings that you really want. Go for the suitable match of your passion with jobs that can actually be had. You can also look online through job-search websites, such as EmploymentCrossing.com. Gear up for the job-hunt battle by updating your résumé and organizing it into a more coherent structure. Make it easy on the eyes; highlight notable accomplishments in the past, and all of the relevant seminars or training you went through.
What it Takes to be Short-Listed
If you're specifically looking for
interesting GIS jobs
, find out what hiring companies require of their employees. Geographic Information Systems (GIS) is a tool that enables analysts and geographers to view data in various ways and determine patterns or relationships on a specific subject. Learn every possible thing that can help you during testing and personal interviews. Brush up on programming and software management and development skills to get into the short-list.
Whether you're searching for an entry level or GIS job, it's always helpful to use job-search websites, such as EmploymentCrossing.com. These online career sites have made things convenient for users by categorizing job postings by positions, location, and job descriptions, among other classification headings.
Comments




---

article ID: 900006763 http://www.employmentcrossing.com/article/900006763/Considerations-While-Looking-for-Entry-Level-Jobs/

article title: Considerations While Looking for Entry Level Jobs

Comment not found for this article.
add comments
Find Jobs in Every Industry and Location that No One Else Knows About
Other job sites only show jobs employers pay to post.

We show jobs from every employer career page, job board and news source we can find.
Tell us where to send your access instructions:
| | |
| --- | --- |
| | 600+ prestigious recruiters across America ranked |
| | 60+ industries and professions scrutinized |
| | Comprehensive updated candid report |
new jobs this week
on EmploymentCrossing
1,153,103
jobs added today
on EmploymentCrossing
371,856
job type count
on EmploymentCrossing
(506,906)
(428,379)
(368,700)
(367,311)
(348,692)
(301,227)
(253,434)
today's featured job
Director, Product, Capital One Labs
United States-VA-Arlington
Director, Product, Capital One Labs','741848','!*!Capital One is a diversified bank that offers a broad array of financial products and services to...
job search tip
Before an interview, review your successes. What were they? How did you make them happen? What achievement are you proudest of? Can you tell them in 60 seconds or less?