By:
Sageworks, Inc.
The majority of accounting professionals surveyed (66%) feel that their business clients will hire less under ObamaCare, where only 2% feel that the Affordable Health Care Act will catalyze bringing on new hires - On a separate note, survey respondents also feel that business owners are less optimistic about hiring now than they were approximately 4 months ago in March of this year.
Sageworks Survey: Affordable Care Act makes it less likely that businesses will hire new employees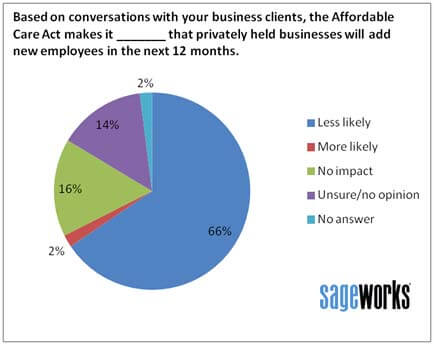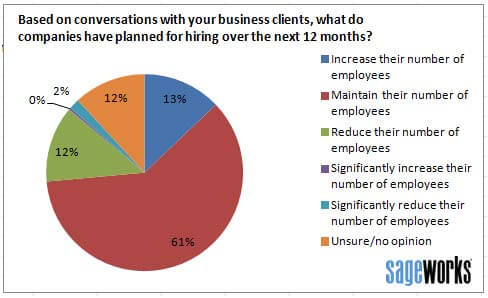 "Private companies are performing well, but they're simply not hiring with the same volume and consistency that we'd expect from them at this point in the economic recovery. The recent delay in the implementation of the Affordable Care Act, and the uncertainty that accompanies such a delay, won't help the employment situation. Private businesses are trying to map out their hiring and investment plans for the next twelve months, and a last minute delay like this will increase the likelihood that companies remain on the fence about hiring." -Brian Hamilton, Chairman, Sageworks
Sageworks surveyed 300 accounting professionals who work closely with these firms and found that 66 percent expect the new health care changes will make it less likely that businesses will add new employees in the next year.


Only 2 percent said the Act makes it "more likely" that businesses will add new employees.


On a separate note, Sageworks asked more generally about the hiring picture for CPAs' business clients- . Approximately 60 percent of respondents said that businesses are planning to maintain their current numbers for employees over the next 12 months. That's an increase from the sentiment reported in March where 52% of all respondents planned to maintain their current numbers of employees without any additional hiring.