Summary: If you want to enlist the help of a staffing firm to help you fill your temporary jobs, you should follow these 4 tips.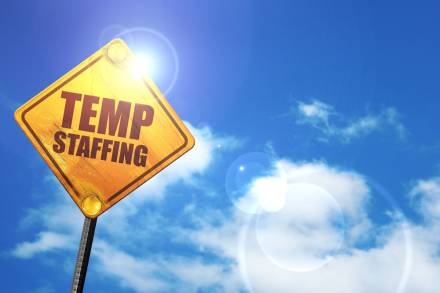 Not so long ago, staffing firms were used primarily to fill low-level office vacancies, mostly on a temporary basis. These temporary workers were placed within a firm, and after a few days (or weeks, or even months) of filing or handling the phones, they quietly departed to move on to the next interim job that came along.
Now, however, staffing firms are placing workers with professional or even executive-level training. And today's "temps" often are smarter, more skilled, and more motivated. In fact, one could even be your next full-time hire.
See
How to Hire Interns Who Can Be Full Time Employees
for more information.
Temp Time
Don't think your company is in the market to use a staffing agency? You may want to reconsider, especially if in the past you've wasted time and resources trying to fill difficult positions. By going to an outside source, you're letting someone else handle the less-than-pleasant aspects of your candidate search.
Basically, it's a matter of whose time and resources are being used. By using a staffing firm, businesses avoid having to spend time locating, screening, and testing candidates—time that can be put to better use on other projects.
There are other advantages to using a staffing agency, even if you're looking to fill a full-time position. Most notable among these is that you'll have a chance to see how the candidate performs before committing to a permanent hire. This "temp-to-hire" arrangement makes it very easy to end the relationship and move on to the next candidate.
Staffing Stagnation
Still, using an outside staffing firm isn't for everyone. For example, you have to be willing to try out several candidates until you find one that fits your organization best. And you have to weigh the costs of using an agency against other alternatives, such as locating and screening your own candidates. But if the idea appeals to you, keep in mind the following considerations:
He who pays the piper calls the tune. Don't use agencies that charge the candidate a fee. You want a recruiting campaign focused on finding the best candidate for you. Years ago, when recruiting and staffing services were in their infancy, they charged job candidates because they were supplying a service to the employee. That's not true anymore. The staffing firm's loyalty should be to you, not the job candidate. If an agency's income is derived from candidate fees, its primary motivation will be finding any job for that person—but you need the motivation to be finding a person right for your job. For that reason, it's best to avoid these types of agencies. It's a cheaper way to do it, but you get what you pay for.
Create a detailed, accurate job description. It's pretty simple—if a staffing agency doesn't understand what qualifications and skills you're looking for in a candidate, it can't locate the right one for you. And to be even more effective, think about listing additional comments in the description as well. It's very helpful to include other notes about the corporate culture and managers to whom the individual will report. For example, is it an extremely fast-paced environment? Is the executive out of the office 80 percent of the time? Does the position require heavy client interaction via phone and e-mail?
Do your homework. Just as you would check the references of any prospective employee, before you enlist the aid of an outside firm check up on it. Don't just turn to the Internet to select an agency. Contact professional organizations. Ask for recommendations within your business network. If you're trying to fill a high-level or skilled position, look for an agency that specializes in that area. It won't do you much good to go to a high-tech placement firm if you're in the market for accounting help.
Look for warning signs. Once you've found a staffing firm you're interested in working with, keep your eyes open. Visit their offices if possible—it could give you an insight into the level of professionalism in the company culture. Are your phone calls returned promptly? Has the firm sent you two or three "problem" employees in a row? Are they vague when answering questions about how potential candidates are located and screened? Always demand first-rate service—and be prepared to look elsewhere if you don't get it.
Should you recruit internally? Learn more about this topic in the following articles: